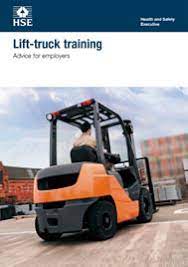 Introduction
The Health and Safety Executive (HSE) is the national independent watchdog for work-related health, safety and illness. The organisation acts in the public interest to reduce work-related death and serious injury across Great Britain's workplaces."Rider-operated lift trucks: Operator training and safe use, Approved Code of Practice and guidance" (known throughout the industry simply as "L117") is the HSE's primary guidance publication on the safe operation of fork lift trucks and was revised in 2013.
Who it's for
L117 is aimed at employers and those responsible for the safe operation of lift trucks, as well as those in control of worksites, the self-employed, managers and supervisors. Others involved with lift trucks, such as trade union health and safety representatives and lift truck trainers, may also find it useful, but it is not intended to replace formal training.
Contents
L117 includes the following:
an outline of the main legal requirements relating to lift trucks
the Approved Code of Practice (ACOP) text and associated guidance on operator training for stacking rider-operated lift trucks. This will help employers meet their legal obligations to make sure all operators receive adequate training
information on features of lift trucks that you need to consider
guidance on the safe use of lift trucks and how to protect pedestrians
guidance on the maintenance and Thorough Examination of lift trucks.