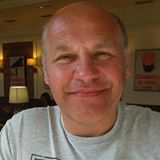 I am a former Non Commissioned Officer serving in the Coldstream Guards from 1979 to 1996.

On leaving the Army I trained to be a Close Protection Officer as part of my resettlement,before the SIA.

In 1999 I started in Warehousing and Production as an operator and progressed to a Cold Store Shift Manager in 2004.

I was living in Gloucestershire,so.in 2006 moved to the South West and Worked as a Frontline Manager for Premier Foods in Avonmouth in Bristol,

In 2007 decided I would prefer to be local,so I move to a local Warehousing Company in Highbridge.

In 2009, I started working at Bakkavor Desserts in Highbridge as an Operator, in 2010, I was a Senior Line Leader in charge of High Risk production,then transferred to Low Risk Despatch until 2014 when I then transferred to the training team to deliver on site Health and Safety, Food Safety, Induction and delivering and preparing Standard Operation Procedures on to the shop floor.

In 2017 I became the on site Forklift Company Trainer teach A1,A2 B1 Counterbalance and D1 Reach courses,leaving Bakkavor Desserts as a Company Trainer in 2018.

Since November 2018 I have been Sub Contracting for various training companies delivering training to Businesses,Job Seekers and HMP prisoners on preparation for resettlement.

In August 2019,I achieved my AITT Accreditation, and set up Blue Red Blue Training Services Southwest as a Ltd Company, Blue Red Blue Training Services is an accredited Category 2 AITT Operator Training Provider,this means our training is audited through the AITT,and when delivering training we can issue certificates on behalf of AITT,also all accredited course are recorded on the AITT Acorns system.

Training is also delivered on behalf of ITSSAR and RTITB as a category 1 Instructor on a sub contractor basis through accredited Category 3 and 4 Training centres,who issue the certificates through the ITSSAR and RTITB Accrediting Bodies.